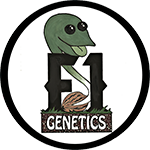 F1 Genetics LLC and F1 Consulting LLC are the parents of F1 Genetics Seeds.
We have decades of hands-on experience in growing, breeding and educating others in Cannabis. Our close associates and friends in Alaska, California, Michigan, Canada and elsewhere add centuries to that library of knowledge.  Without them our journey would have been almost impossible, and we thank them sincerely.
While we were originally growing for personal use in the early days of growing, we became acutely aware of the medical benefits of Cannabis for many illnesses and conditions. We spent several years developing our logo and packaging; some pictures of those transitions are included. Proudly, our logo is registered and protected in the State of Michigan and we are fully licensed to sell our products.
When it became legal for card holders to grow their own plants, we added F1 Consulting to our company, providing clients with technical and personal help to meet their own needs. We have been delivering valuable information and results since inception.
Our goal is to provide a superior client and member experience with practical problem-solving, a knowledge base of proven results and shared values. We are passionate about exceeding your expectations and ensuring your success.
We love our members and welcome your feedback and suggestions. Use the Contact Us  form below to let us what we're doing right or what we can improve.
Fields marked with an * are required